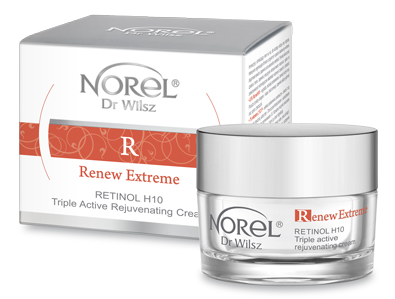 Renew Extreme
RETINOL H10 Triple Active Rejuvenating Cream
Ref. DK 252
Innovative night cream for all types of mature skin. This intensely rejuvenating, pleasantly scented formula is easily absorbed and provides the skin with velvety softness. Smoothes and reduces wrinkles and accelerates regeneration of the epidermis. Brightens discolourations, restores radiance and improves the tone of tired, dull complexion. The skin quickly regains a fresh, distinctly younger and healthier appearance.
The cream is formulated with technologically advanced active ingredients: 0.5% Retinol H10, 1% VC-IP Vitamin C, phytic acid, NovHyal®, Inovelo CAFA®, sodium hyaluronate.
Directions: Apply in the evening onto the skin of face and neck. We recommend to use the cream in combination with the Retinol & Vitamin C Rejuvenating Serum. In the morning apply a protective SPF 30 cream.
50 ml